Welcome

The Autauga County Technology Center is a college and career-focused school where instructors simulate workforce skills to prepare students to be successful in future careers. Our vision is to prepare students to enter the workforce or for further study in a post-secondary or collegiate program in their chosen career field. Career training and advanced skill training are highly dependent on students' motivation and desire to excel.

Mission Statement

The mission of the Autauga County Technology Center is to provide students with the opportunity to obtain knowledge and skills that will enable them to become productive members of a changing technological society.

Objectives

At the Autauga County Technology Center, we strive to:

Assist students in the selection of a suitable career pathway through guidance, counseling, simulated workplace, and career exploration.




Provide instruction and assistance to enable students to develop entry-level skills in their chosen careers.




Provide job-placement and follow-up services for Work-Based Learning students.




Maintain close coordination with the county middle and high schools and local post-secondary institutions so transitions are seamless throughout students' school years.




Maintain positive public relations with schools, businesses, industries, and other agencies to aid in the educational process.



Principal's Bio
Career Tech Administrator

Mrs. Goodwine began teaching Business Education in 2002 at Calera High School. She transferred to Oak Mountain High School in 2005 and then returned to her Alma Mater, Vestavia Hills High School in 2007. In 2017, Mrs. Goodwine was named the principal of the Autauga County Technology Center and the Career Tech Administrator for the Autauga County School System. Mrs. Goodwine has a Bachelor's in Business Administration from Faulkner University, a Master's in Postsecondary Education in Instructional Technology from Troy University and a Master's in Education in Instructional Leadership from Samford University. She served as president of the Alabama Business Education Association (ABEA) in 2016-2017 and currently serves as past-president. Mrs. Goodwine received the Alabama Business Education Secondary Teacher of the Year award for 2015 and the Southern Business Education Association Secondary Teacher of the Year award for 2016. Currently, she serves the Southern Business Education Association as Membership Director. Mrs. Goodwine earned her National Board Certification in 2009.

Mrs. Goodwine owned a business in Vestavia Hills for many years called Deana's Music teaching group piano, private piano & voice, and Kindermusik classes. In her spare time, Mrs. Goodwine enjoys spending time with her family, running, riding bicycles and Harleys.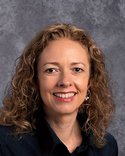 Deana Goodwine
Administrator
Phone: 334-361-0258