Welcome!
The Autauga County Technology Center offers a diverse curriculum designed to prepare students for entry into the workforce or for further study in the postsecondary setting. The courses provide rigor and relevance for students by linking school-based learning with career-related experiences. Autauga County's Career and Technical Education Program includes sixteen career clusters.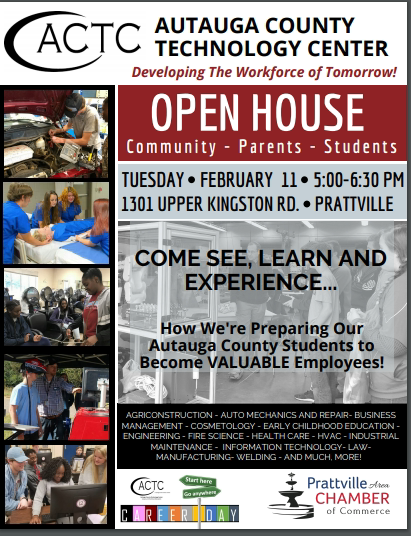 Support Career Tech:
Click here to help support funds for Career Tech by partnering with Publix.

Autauga County Schools SAFE SCHOOLS Tip Line
PH: 334-351-9600

Developing the workforce of tomorrow
Career Technical Education

It is the policy of the Autauga County Board of Education that no student shall be excluded from participation in, be denied the benefits of, or be subjected to discrimination in any program or activity on the basis of sex, age, marital status, race, religion, belief, national origin, ethnic group, disability, immigrant status, non-English speaking ability, homeless status, or migrant status and provides equal access to the Boy Scouts and other designated youth groups.

Ms. Julie Harrington,
Coordinator for Title IX

153 West Fourth Street
Prattville, AL 36067
(334) 365-5706
julie.harrington@acboe.net