Welcome!
The Autauga County Technology Center offers a diverse curriculum designed to prepare students for entry into the workforce or for further study in the postsecondary setting. The courses provide rigor and relevance for students by linking school-based learning with career-related experiences. Autauga County's Career and Technical Education Program includes sixteen career clusters.
ACTC Teacher of the Year 2020-2021
The ACTC congratulates Ivy Johnson, Business Education/Work-Based Learning teacher, for being chosen as our Teacher of the Year for 2020-2021. Each year, the Autauga Education Foundation and Alabama Education Association honors teachers at each Autauga County School by selecting a Teacher of the Year.
ACTC CAREER TECH TRADITIONAL & VIRTUAL STUDENTS INSTRUCTIONS
All traditional ACTC Career Tech students will attend their assigned CTE courses as directed on their INOW school schedules from their high schools.
All virtual ACTC Career Tech students, WILL BE VIRTUAL, and may

at some point,

as directed by the teacher through phone and email communication with parents and students,

need to come to do a hands on/live lab work project or other specified required projects for their career clusters, but will not be daily.

All virtual students who drive to the ACTC to periodically report to their teachers to work on project-based live work assignments, or turn in a project, will need to have a parking pass, that they will receive on an as needed basis while parked in the designated student spots on the front of the school, and will have to have an assigned date, day, and time from their teachers to do so, which will be on file in the main office and with the ACTC Principal.

If virtual student drives to ACTC courses to complete hands on/live work projects at a pre-specified date and time by the teacher, student, and parent or specific requested assignment they will have to fill out the attached parking information form, and pay $10 for a parking pass, if they do not have one from their high school.

We need all virtual students to email their virtual ACTC teacher the following (see autaugatech.com website)

:




Student Name:




Grade Level:




Student # from INOW:




Schoology User name:




Student Cell:




Student Email:




Parent Cell:




Parent Email:




CTE Course(s) Enrolled:




CTSO or Club:




Emergency Contact if parent can't be reached:




Career Choice: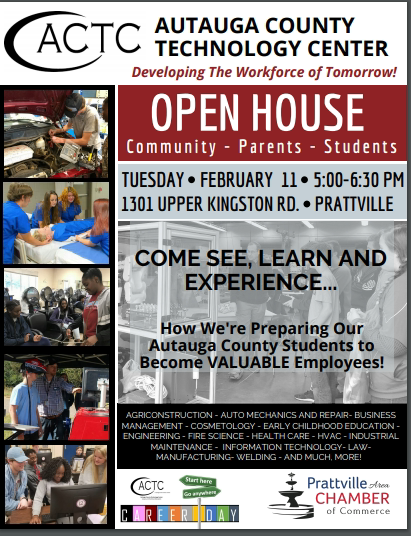 Support Career Tech:
Click here to help support funds for Career Tech by partnering with Publix.

Autauga County Schools SAFE SCHOOLS Tip Line
PH: 334-351-9600

Developing the workforce of tomorrow
Career Technical Education

It is the policy of the Autauga County Board of Education that no student shall be excluded from participation in, be denied the benefits of, or be subjected to discrimination in any program or activity on the basis of sex, age, marital status, race, religion, belief, national origin, ethnic group, disability, immigrant status, non-English speaking ability, homeless status, or migrant status and provides equal access to the Boy Scouts and other designated youth groups.

Ms. Nancy Jackson,
Coordinator for Title IX

153 West Fourth Street
Prattville, AL 36067
(334) 365-5706
Nancy.Jackson@acboe.net